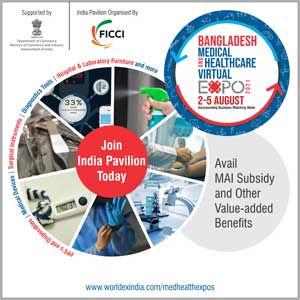 Industry News
---
Industry News : Archives
Did You Know?
---
About Innovative Method for Recycling Disposable Plastic PPE Kits
It is estimated that during the Covid Pandemic, hospitals across the world use millions and millions of Personal Protective Equipment ( PPE ), the majority of which are single-use plastics. This results into challenges managing mountains of waste...
Learning Zone
---
For centuries, plastic surgeons, obstetricians, urologists, dentists and oral surgeons and even veterinarians have used stitches to close up the gashes, cuts and surgical incisions. Now, many physicians are using some form of dissolvable stitches (also called absorbable sutures). The great thing about dissolvable stitches is that they can be used on internal or external wounds...

Market Trends & Analysis
---
Capitalising On India's Growth Potential : Medical Device Industry Will Not Be Left Behind
The Indian economy is growing strongly, and will continue to provide a conductive macro-environment for the industry to grow in.
The government is increasing spend on healthcare; and the Indian population is spending an increased amount of money on healthcare as a percentage of disposable income.
The disease profile is changing with an increase in acute diseases along side growth of chronics.
Health insurance is growing...
---
Design pros are looking for sustainable opportunities in the medical device field -- but they're not always easy to find. "We tend to overlook cycle time...