Industry News
---
Industry News : Archives
Global Trends
---
Enteral Feeding Devices Market Worth 3.19 Billion USD by 2022
According to a new market research "Enteral Feeding Devices Market by Type (Feeding Pump, Feeding Tube, Giving Set, Enteral Syringes), Age Group (Adult, Pediatric), Application (Oncology, Gastroenterology, Diabetes), End User (Hospital, Home Care) - Global Forecast to 2022", published by MarketsandMarkets™, the market is expected to reach USD 3.19 Billion by 2022...
Archive
Did You Know?
---
About What is a Medical Grade Polymer?
In an interesting article as published in the "Medical Plastic News (May – June 2018 ) , Siobhan Bastiansen, Velox, has explained why material suppliers as well as Device Manufacturers would benefit from clarification and shows how specialized medical polymer producers have risen to the challenge to create indispensable value for processors and OEMs...
Learning Zone
---
For centuries, plastic surgeons, obstetricians, urologists, dentists and oral surgeons and even veterinarians have used stitches to close up the gashes, cuts and surgical incisions. Now, many physicians are using some form of dissolvable stitches (also called absorbable sutures). The great thing about dissolvable stitches is that they can be used on internal or external wounds...

Market Trends & Analysis
---
Capitalising On India's Growth Potential : Medical Device Industry Will Not Be Left Behind
The Indian economy is growing strongly, and will continue to provide a conductive macro-environment for the industry to grow in.
The government is increasing spend on healthcare; and the Indian population is spending an increased amount of money on healthcare as a percentage of disposable income.
The disease profile is changing with an increase in acute diseases along side growth of chronics.
Health insurance is growing...
---
Design pros are looking for sustainable opportunities in the medical device field -- but they're not always easy to find. "We tend to overlook cycle time...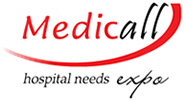 27-29 July, 2018
Chennai Trade Center, Nandambakkam, Chennai

Medical Fair India 2018
21-23, February 2019
Pragati Maidan, New Delhi, India