Plastics In Medical Technology On Course For Further Success
K 2013 To Showcase: Single-Use Syringes, Cannula–And Beyond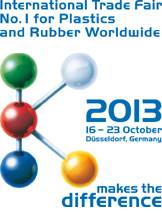 Be it contact lenses, intubation tubes, single-use syringes or cannulas, more than half of all medical products manufactured around the world are made of plastics. But even beyond these mass-produced articles, the prospects for polymer materials in medical technology look rosy. Market experts will have ample opportunity to track both the advances made and the growth of plastics in medical applications at K 2013, the international trade fair for plastics and rubber, which is being staged in Düsseldorf from 16 to 23 October.
The real story of plastics may well have begun with the invention of celluloid in 1868. In the initial stages progression was slow, however, until the mid 20th century when advances came thick and fast. Whereas in 1950 the total volume of plastics produced and used worldwide amounted to just 1.5 million tonnes, the global figure for synthetic materials has soared to today's 280 million tonnes. About one fifth is accounted for by Europe, the second largest plastics producer in the world behind China.
Steadily Increasing Numbers
Of the roughly 47 million tonnes of plastics processed in Europe, almost 40 per cent are used for packagings, 21 per cent for civil engineering and construction, 8.3 per cent in the automotive industry, and 5.4 per cent in the electrical and electronics industry. The rest is spread across such diverse areas as sport and leisure, toys, household goods, furniture, agricultural uses, and – not least – medical technology. Regarding the latter, no exact percentages are available because of the blurred distinctions as to where medical technology starts and ends. But one thing is clear: only the technically sophisticated and high-quality plastic grades find their way into health care applications.
With a growth rate approaching 9 per cent in 2010 and 6 per cent in 2011, medical technology lies substantially above the figures for most domestic industries in Germany. Turnover by German enterprises in this market has been estimated at approximately •21bn for 2011 by Spectaris, the German industry association of businesses in the optical, medical and mechatronic technologies.
Plastics were already being used in medical technology even before synthetics began to write their commercial success story from the mid 20th century onwards. In 1936, William Feinbloom made the first contact lenses in the USA from polymethyl methacrylate (PMMA), a polymer material that first achieved fame under the trademark Plexiglas. From the mid 20th century, plastics were also being used increasingly to make artificial limbs. Currently, sophisticated composite constructions made of plastics reinforced with carbon fibres (CRP) are being used to make such unusual prostheses as those used by Blade Runner, the South African athlete Oscar Pistorius.
This shows quite clearly how high the expectations are on plastics for use in medical technology – and the demands are growing further. Novel creations in polymer chemistry, e.g. improved silicone elastomers, thermoplastics with antimicrobial finishes, and the opportunities offered by nanotechnology are expanding the variety of applications, and more. They also help to enhance the properties of products, such as processability or resistance to fungal and
bacterial attack.
Opportunities to learn more about plastics in medical technology will, incidentally, also be provided by COMPAMED from 20 to 22 November, which is also being held this autumn in Dusseldorf parallel to the MEDICA trade fair (20–23 November). One month earlier, from 16 to 23 October, K 2013 will open another window on the topic when the halls with exhibiting machine manufacturers will be revealing the latest trends in manufacturing medical products by injection moulding, extrusion, or laser welding, etc.
More information at: www.k-online.de