Drug-Coated Balloons Are Emerging As the Alternative to Metal Stents
One of the standard treatments for opening blocked arteries is to insert an expandable metal tube (stent) covered with drugs via a catheter. Today about 95% of angioplasty procedures use a metal stent to enlarge a blocked artery permanently. The stent remains in the body permanently. In smaller arteries there is a risk that tissue will grow inside the stent and narrow it, causing the artery to become blocked a second time (in-stent restenosis), or that a blood clot will develop on the stent (stent thrombosis) and cause a heart attack or stroke.

But what if the patient is young, has multiple blocks, and has conditions that may not give good results in such procedures?

Prof Antonio Colombo, director of Cardiac Cath Lab and Interventional Cardiology Unit at EMO Centro Cuore Columbus, Milan in Italy, on Friday said that special drug-coated balloons are emerging as the alternative to stents in several cases. Prof Colombo, who is considered an international pioneer in several cardiac procedures, was in the city to conduct a workshop for interventional cardiologists.

"I had started stenting extensively several decades ago, and thus people are surprised when I say that balloons can replace it. But I am not against stenting – it's essential in several cases, but where there are multiple blocks or where a long stent is required, balloons can be a good alternative," said Prof Colombo. "Compared to about 20% patients internationally who have existing co-morbidities like diabetes, India has number hovering around 35%. The age of cardiac patients is also getting younger and re-procedure may be required. In such scenario, it could be a good option."

A removable balloon is as good as a permanent stent implant for opening small blocked arteries, according to late breaking results from the BASKET-SMALL 2 trial presented in a Hot Line Session today at ESC Congress 20181 and simultaneously published in The Lancet˛.

Principal investigator Professor Raban Jeger, of the University Hospital Basel, Switzerland, said: "The results of this trial move us a step closer towards treating small blocked arteries without having to insert a permanent implant."

Balloons covered with drugs, also inserted using a catheter, are approved in Europe to reopen stented arteries that have become blocked a second time. The balloon is removed after the procedure.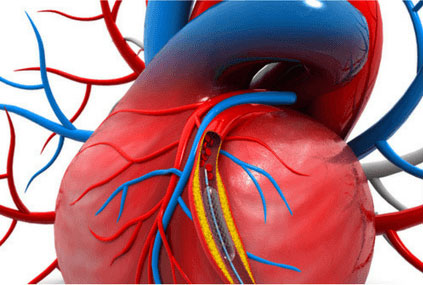 "The potential benefits of a stent-free option to treat small blocked arteries are numerous," said Professor Jeger. "With no permanent implant left after the procedure, the problem of tissue growth and clot formation within the stent is eliminated. In addition, there may be no need for prolonged treatment with anticlotting medicines, which has been controversial since it increases the risk of bleeding."

He concluded: "Drug coated balloon angioplasty has the possibility to become the standard treatment for small blocked arteries. We will continue to monitor patients in the trial for a further two years for major adverse cardiac events, stent thrombosis, and bleeding."

Dr Sameer Dani, director and chief interventional cardiologist at Apollo CVHF Heart Institute, said that India along with several other countries is running a trial with Made-in-India drug-coated balloons. "In this procedure, instead of releasing the stent at a specific spot, the drug is released through the mechanism which expands the arteries. It reduces the side-effects of stent. In context of our practice, about 20-25% procedures can be carried out with balloons," he said.

Experts said that it's still not covered in several insurance schemes, and is about 20-30% costlier than a traditional stenting procedure. "But in the longer run, it may emerge as an important tool in hands of cardiologists. The effects of the procedure may start showing results in 2-3 years, which may also work as deterrent for some," said Prof Colombo.

References :
1. https://www.escardio.org/The-ESC/Press-Office/Press-releases/Removable-balloon-is-as-good-as-permanent-stent-
implant-for-opening-small-blocked-arteriesAug. 28, 2018
2. https://timesofindia.indiatimes.com/city/ahmedabad/balloons-can-be-alternative-to-stents/articleshow/93532835.cms Aug. 13, 2022