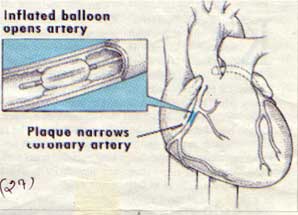 Stents and new drugs better angioplasty outcomes
The HCIA-Sachs Institute released the results of its clinical research study linking the use of stents and specific drugs in angioplasty procedures with overall patient outcomes and top hospital performance.
The study, Use of Stents and GP Iib/IIIa Inhibitors in PTCA Cases in American Hospitals: Benchmarks and Norms, found that use of the treatment pattern is linked to better long-term outcomes for angioplasty patients, and that the nation's 100 top hospitals were more likely to use this specific treatment regimen during angioplasty procedures.
The procedure, Percutaneous Transluminal Coronary Angioplasty (PTCA), restores blood flow to the heart through compression of atherosclerotic plaque in the coronary arteries. The research study examined a treatment pattern that incorporated the use of stents, implants that keep blood passageways open, and glycopretein inhibitors (GP Iib/IIIa), drugs that prevent the formations of blood clots.
Jean Chenoweth, executive director of the HCIA-Sachs Institute, said in a press release, "We have found that angioplasty patients in 100 top hospitals tend to receive more effective treatment resulting in better outcomes."
While the technologies have been described as more costly, 100 top hospitals are using them while maintaining lower average charges for PTCA. It is possible that long term costs are also reduced with these technologies due to decreased need for revascularisation procedures. Chenoweth added, "We anticipate that examination of additional procedures in a number of other clinical areas will yield similar results."
More specifically, the study found, for PTCA procedures: The use of stents, for hospitals in the study, results in a seven percent decrease in the risk for revascularisation.
Since the introduction of PTCA in the early 1970s, increasing numbers of patients with coronary artery disease have undergone the procedure. In the US, more than 500,000 PTCAs were performed in 1998 alone.