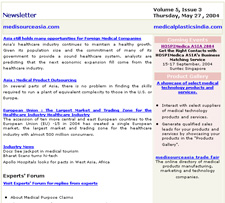 Subscribe & receive...
Site Updates
mediNET forum trade leads
Event Updates
& much more...
Register
&
receive
free email newsletter plus
free access to medisourceasia tradefair: The Online Directory Of Medical Products Manufacturing, Marketing And Technology Companies plus
free access to mediNET Forum: dedicated to Medical Technology Industry for each and every business opportunity.
You are just one click away.
Meet more buyers! Sell more products! Save cost and time!

Already Registered!
&
Not receiving email newsletter!