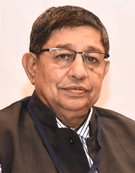 D L Pandya
D L Pandya is a Chemical Engineer with specialisation in Petroleum Refining and Petrochemicals with Post Graduate courses in Industrial Engineering and Materials Management.
Having worked with industries as well an organisation assisting new industries by providing techno-commercial consultancy services, Mr Pandya promoted an industry for manufacturing components for medical devices and then expanded into providing technical and management services for medical devices and plastics industries since more than 30 years.
He has travelled extensively to various countries including USA, UK, Germany, The Netherlands, Italy, Belgium, Singapore, Thailand, Saudi Arabia, Dubai, and also some countries in Africa for various assignments related to medical technology industry.