Medical Packaging - Global Market Scenario
The medical / healthcare industry is one of the largest industries in the world. Healthcare packaging is essential for protecting the medicines and medical equipment from contamination from air, moisture and dust. Being a vital industry, as emerging economies grow, demand for healthcare packaging will increase, further strengthening the market.
The global healthcare packaging market is constantly challenged with changing trends such as the increased use of disposable medical products, ageing population, rising cost of raw materials, transportation and energy, cost pressures on suppliers, influence of regulations, outsourcing packaging, child-resistant and tamper-evident packaging. Countries continue to invest in healthcare development, and corresponding strong demand is expected for healthcare packaging, allowing for robust market growth. Furthermore, innovations driven by consumer preferences and environmental concerns will create new and exciting opportunities in the healthcare packaging market.
The key drivers for the growth of the medical device packaging market are the growing healthcare industry. There is an increased demand for such packaging by the medical device manufacturers on a large scale. The packaging industry on the other hand are seen investing heavily on various technological advancements. On the basis of product type, pouches contributes the largest to the market, majorly due to its cost effectiveness and infection resistant specification. Cost sensitiveness and falling healthcare costs are hindering the growth of the global medical device packaging market. North-America contributes largely to overall market share.
Europe is the leading consumer followed closely by North America. Major demand in Europe is generated from Western Europe where most of the major consumers such as GE Healthcare, Phillips and Siemens Healthcare among others are located. Asia Pacific has emerged as the fastest growing market led by India and China owing to expansion and stricter regulations for medical products industry in the region.
The global medical device packaging market size is expected to cross USD 30 Billion at CAGR of approximately 6% by 2022. Growing healthcare industry is expected to drive the medical devices market which in turn affects the medical device packaging demand. However, healthcare cost reduction in the major markets as well as cost sensitiveness due to rising completion in the medical devices market might hamper the market growth.
Global Medical Device Packaging Market Segmentation
Containers are the dominant product types of medical device packaging and expected to remain the largest segment over the forecast period. Other product types include pouches, trays, blister packs, clamshell packs and vials. Stringent government regulations and strict industry standards are expected to further enhance the market demand. Improved strength, barrier properties and puncture resistance have added to the attractiveness of pouches for small to medium sized packages. Multiple compartment trays and clamshell trays are other types which are gaining popularity attributed to lower risk of infection spreading and staff errors during the organization of products.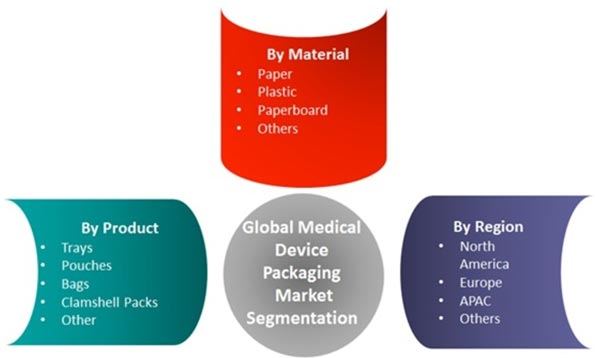 Regional Analysis of Global Medical Device Packaging Market
Asian countries, especially India, China are expected to grow fastest over the forecasted period due to expansion of the healthcare industry and stricter government and non-government regulations to support healthcare sector. However, North America dominates the market due to advancements of medical technology and infrastructure.
Market Size of Medical Device Packaging by Regions (USD Billion)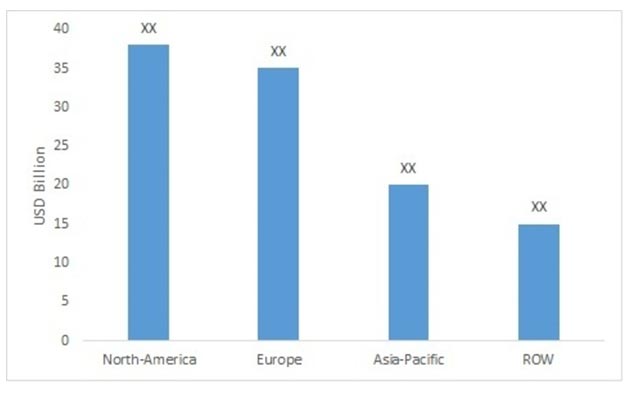 Key Players
The key players of the global medical device packaging market include- Amcor Limited, Bemis Company Inc, Chesapeake Limited, E. I. du Pont de Nemours and Company, Klöckner Pentaplast Group, 3M Company, WestRock Company, Mitsubishi Chemical Holdings Corporation, and Oliver-Tolas.
Some of the major players in Global Medical Packaging Market include Amcor Limited, Chesapeake Limited, DuPont, Klöckner Pentaplast Group, MeadWestvaco Corporation, Mitsubishi Chemical Holdings Corporation Bemis Company, Inc. (U.S.), West Pharmaceutical Services, Inc. (U.S.). And 3M company among others.
Target Audience
• Manufactures • Raw Materials Suppliers • Aftermarket supplier • Research Institute / Education Institute • Potential Investors • Key executive (CEO and COO) and strategy growth manager
Ref.: https://www.marketresearchfuture.com
* * * * *