Euro Alliance signs MoU with AMTZ to provide market access to medical technology companies in Switzerland and India
An MoU has been signed between Euro Alliance SA represented by chairman & managing director, Rakshit Mehta and Andhra Med Tech Zone (AMTZ) headed by Dr. Jitendar Sharma, MD & CEO, AMTZ in the presence of Dr Poonam Malakondiah, Special Chief Secretary of the department of health, Government of Andhra Pradesh as part of the three-day World Economic Forum Summit being held at Davos from January 22 to January 25, 2019.
Under this arrangement, medical devices manufacturing in Andhra Pradesh will get a major boost and also support manufacturers at AMTZ to reach Swiss market.
Says Dr. Jitendar Sharma, MD & CEO, AMTZ, "Andhra Pradesh headed by IT minister of the state, Shri Nara Lokesh has been at the forefront attracting investments to the newly conceived state of Andhra Pradesh. It is a welcome move that Euro Alliance SA has come forward to enable two-way market access."
AMTZ has been generating significant interest from many international firms in the field of medical technology during the three-day Summit being held at Davos. Two major international firms, Chronos Imaging and Energy Vault have already shown interest to set up their base at AMTZ in Visakhapatnam, Andhra Pradesh.
To strengthen the state economy, manufacturing plays a significant role. It creates wealth for the common population by creating opportunities for the local youth. It creates wealth for government and the companies that are establishing their base in Andhra Pradesh.
AMTZ which has been dedicated to the nation by Chief Minister of Andhra Pradesh has been at the forefront of this mission by creating opportunities and make Andhra Pradesh stand first in medical devices industry there by placing India on the global map in this sector.
Kalam Institute of Health Technology (KIHT) has also tied up with the Emergency Care Research Institute (ECRI) to develop approaches for improving patient care in Indian healthcare system.
This association would help Indian healthcare system, medical providers, government agencies, insurance payers and other organizations in the private and public sectors. An independent non-profit organization founded in the early 1960s, ECRI in India would be the fifth office managed by KIHT at medical technology capital of India, AMTZ, Visakhapatnam.
ECRI is an international organization with offices in the US, UK, UAE and Malaysia. It has been undertaking brand and model comparative evaluations of medical devices since 1971.
http://pharmabiz.com/NewsDetails.aspx?aid=113661&sid=2
---
Health Minister confers 'Award of Appreciation' to Rajiv Nath of AIMED for his contribution to global healthcare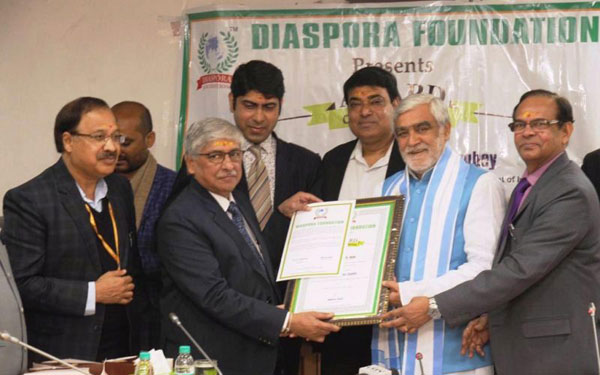 New Delhi: Rajiv Nath was conferred with the prestigious 'Award of Appreciation' by Ashwini Kumar Choubey, Minister of State for Health & Family Welfare for his contribution to the Global Public Healthcare sector at The Award of Appreciation Ceremony held yesterday at Ministry of Health and Family Welfare, Nirman Bhawan, New Delhi, organized by Diaspora Foundation.
As the Founder and Forum Coordinator of Association of Indian Medical Device Industry (AiMeD), with over 350 Members nationwide, Nath has taken many initiatives of establishing a collaborative framework with various Dept. of the Govt. and media to bring to their attention issues troubling the industry and attract investments into India in his quest to make India as the Global Manufacturing Hub of Medical Devices – Make in India, Preferred Manufacturing Destination and the leading supplier of Medical Device worldwide.
Recently Rajiv Nath has also been appointed as the Member on Board of National Medical Devices Promotion Council by DIPP established to boost and strengthen the Indian Medical Devices Sector and lead India to an export-driven market in the Medical Devices sector.
https://www.siasat.com/news/health-minister-confers-awardappreciation-rajiv-nath-aimed-his-contribution-globalhealthcare-1462181/