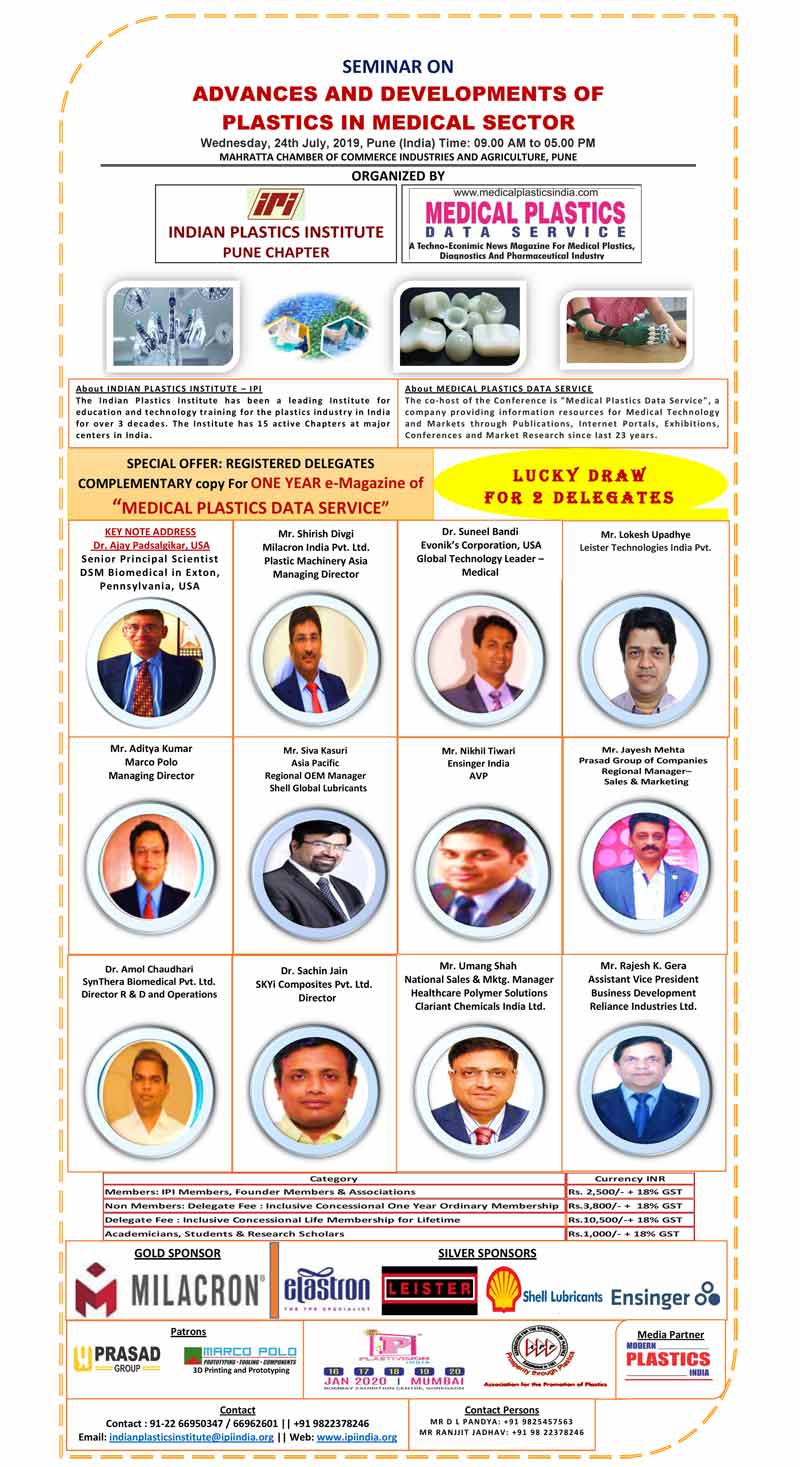 ---
Invited Speakers Profile & Abstracts :
Dr. Ajay Padsalgikar
Senior Principal Scientist
DSM Biomedical in Exton
Pennsylvania, USA
Profile Summary:
Dr. Ajay Padsalgikar, USA, a Well-Known Personality in this versatile field has agreed to be the Keynote Speaker. He is working as a Senior Principal Scientist at the Innovation Center of DSM Biomedical in Exton, Pennsylvania, USA. He has more than 30 published scientific papers and 10 patents. In 2017, he wrote a book titled "Plastics in Medical devices for Cardiovascular Applications" that was published by Elsevier.
Title : Global Trends in Medical Plastics Technology and Applications – Role of Indian Industry
Abstract
Health care is expanding worldwide with the industry showing double digit growths in emerging economies. The use of polymers within this sector is increasing with the growth of the industry as well as with new approaches in medical treatment. This talk will focus on the suitability of plastics for medical applications, the manufacturing processes for medical device production, emerging applications and opportunities for the Indian industry.
---
Mr. Ajay Pitre
Managing Partner
Pitre Business Ventures LLP
Profile Summary :
A pioneer in India since 1973, the Sushrut-Adler Group has specialized in the manufacturingand distribution of cost effective orthopaedic solutions adhering to international standards.
Mr Pitre's width of experience was as a Managing Director of the Sushrut-Adler group for more than 25 years. Mr. Pitre took charge of the group operations as 'Managing Director' in 1987 after he graduated in commerce. He further completed a course in 'Management for Small and Medium Enterprises' at The Indian Institute of Management. While handling the diversified activities of Sushrut – Adler Group such as indigenous development of relevant technology, manufacturing, marketing, sales and finance. He also led associations with various foreign companies for technology transfer and implementation of manufacturing under know-how transfer. Mr. Pitre has set for himself high standards of performance to excel in the areas of strategic planning, implementation and resource management. The group had achieved noticeable milestones under Mr.Pitre's exceptional leadership qualities and vision over the last two decades.
He has been the past Co-Chair & is currently the Advisor of the Medical Device Forum of FICCI (Federation of Indian Chambers of Commerce and Industry).
Mr. Pitre is a member of Governing Board CMTI (Central Manufacturing Technology Institute).
He is a member of the board of a (Medical) Technology Business Incubator being established at the Shree Chitra Tirunal Institute for Medical Sciences and Technology (Department of Science & Technology) being seed funded by Department of Science & Technology, Government of India.
He is also a member of various committees of professional organizations such as FICCI Healthcare Committee, CII Healthcare Committee, and Sub-Committee for standardization of Orthopaedic Implants of the Bureau of Indian Standards (BIS), Governing Council-Maharashtra Chamber of Commerce, Industry & Agriculture (MACCIA).
Mr. Pitre is a member and the past Chairman of CII (Confederation of Indian Industries) Medical Technology Division. He has been a part of the Committees interacting with the Indian Regulators on evolving current Medical Device Regulations and Implementation Strategies. Mr. Pitre has also been a Co Opted Member of Committee of Administration of Pharmexcil.
Mr. Pitre is on the Board of Trustees of Pitre Foundation and CREDAR. Pitre Foundation is a funding trust through which Pitre Family executes its various social initiatives. The Foundation works in close collaboration with CREDAR (Centre for Rural Entrepreneurship) which is the executing trust with area of operation in Devrukh (Dist. Ratnagiri).
CREDAR executes social, cultural and educational projects through various local NGOs, namely 'SIDDHI', 'AAKAR' (dedicated to Rural Community Development, raising Environment Awareness, Women and Youth Welfare), DCAD (Dedicated to Educational Activities), LKAD (Cultural activities) etc. CREDAR was established with a view to offer training facilities and avenues to enable the youth to undertake employment for Self Sustenance.
In 2003, The Indian Orthopaedic Association honored him with a 'Certificate of Excellence' in recognition for the contributions to the Orthopaedic fraternity in India.
In Sept 2010, he was invited as a guest speaker in New York by Wells Fargo Securities to present his thoughts and ideas on broader Indian Medical Device market and the Indian orthopedic industry.
Being an Industry spokesman, he has been invited as a speaker at prestigious forums to cover general aspects of the orthopaedic industry as well as the Medical Device Industry namely the 'Orthotec Europe conference' in Zurich on "Emerging market opportunities, challenges and key drivers", The 'Australian Medtec conference' in Melbourne. These forums also include premium Medical and Engineering institutes, Conferences by CII, FICCI, Stanford India Biodesign and government bodies such as Department of Biotechnology, Office of the Scientific Advisor Govt. of India, Board of Health Ministry of India, and Department of Pharmaceuticals.
Mr. Pitre was invited for a Panel discussion by World Bank to discuss 'Opportunities and Challenges for the Medical Device Industry in India' at The World Bank, New Delhi.
Mr. Pitre has also moderated various discussions including one at the Asian Harmonization Working Party (AHWP) workshop at New Delhi.
Mr. Pitre's has long been convinced about the relevance of Indian Innovation in medical technology and business models to help meet the growing need of the emerging non-affluent world that constitutes more than 80% of the global population. After enabling the Sushrut-Adler Group to take larger steps by becoming part of Smith & Nephew, a global orthopaedic leader, Mr. Pitre supported the acquired organization as it's Chief Mentor. Now as Managing Partner of Pitre Business Ventures LLP. he continues his connect with the Medical technology Industry by engaging in various activities including assisting, consulting and enabling various MedTech companies and innovators in aiming to catapult the Indian MedTech industry to become a powerhouse while catering to almost 80% of the global population with cost and market appropriate solutions relative to the affluent countries.
Mr. Pitre is also a certified Marshall Goldsmith "Executive Coach".
Mr. Pitre is a resident of Pune (Maharashtra, India). As a student he was a keen sportsman and a passionate Cricketer too.
---
Dr. Suneel Bandi, PhD
Technology Leader Medical
High Performance Polymers, Americas
Profile Summary :
Sunil Bandi Holds a Doctoral Degree in Macromolecular Science and Engineering from Case Western Reserve University, with a broad polymer industrial experience.
Presently Global Technology Leader - Medical (implant and non-implant) for EVONIK's High performance polymers group.
Prior to joining Evonik, Lead product development at Solvay and has Management consulting experience in the domain of technology based market and strategy assessment at Newrycorp.
Lead startup Aeroclay Inc. a novel platform technology for lightweight applications.
Dr. Suneel Bandi is well connected to global network of medical customers, and actively support technical programming.
Title: High Performance Polymers for Medical Device Applications
Abstract:
EVONIK is a technology leader for high-performance polyamides, EVONIK's current portfolio of specialty polyamides include PA12, PEBA (flexible polyamide), bio-based polyamides, and transparent polyamides for the medical devices. From catheters and balloons to diagnostic equipment and surgical instrumentation, VESTAMID® Care and TROGAMID® Care are well established. EVONIK offers flexibility in the design and manufacturing through our new Bonding VESTAMID® Care and TROGAMID® Care grade polymers. EVONIK's VESTAKEEP® Care PEEK materials are used in temporary contact and instrument applications, while VESTAKEEP® PEEK i-Grades are used for permanent implant applications. From spine and sports medicine, to drug delivery devices and heart valve applications, new compounds of VESTAKEEP® PEEK are designed to meet the specific application needs and performance demands of medical-device industry.
---
Mr. Umang Shah

National Sales & Marketing Manager - Masterbatch & Compounds for Medical & Pharma Segment

CLARIANT Chemicals India Ltd, Mumbai
Profile Summary :
CLARIANT is one of the world's leading Specialty Chemicals company. Mr. Umang Shah is a National Sales & Marketing Manager for Masterbatch & Compounds for Medical & Pharma Segment (HPS) since Dec, 2015 and based at head quarter in Navi Mumbai. He is helping Indian manufacturers to develop various Medical devices & Pharma packaging applications meeting the regulatory requirements for the domestic & export markets.
Mr. Umang Shah is a Polymer Technologist, MBA – Marketing with over 25 years of experience in reputed MNCs. Earlier, he worked with SABIC Innovative Plastics & GE Plastics for more than 22 years. He has rich Techno- Commercial experience and handled various key responsibilities as a
Key Accounts Manager – Sales & Marketing.

Application Development Specialist.

Technical Services Manager at Mumbai.
He has worked on various segments like Automotive, Electrical, Appliances, Medical and Industrial projects. Successfully developed several Metal to Plastics, Themoset / Glass to Thermo-plastics applications.
Also, worked at Engineering Plastics compounding plant at GE Plastics (now SABIC), Vadodara, Application Development Centre at Gurgaon, GE's Global R&D Centre at Bangalore on various innovative and Patent projects.
Mr. Umang Shah is Immediate past Chairman of Indian Plastics Institute (IPI) – Mumbai Chapter. With this, He is helping Plastics industry and students to organize, seminars, conferences for the latest updates.
Title : Polymer Compounds & Masterbatch from CLARIANT - Helping You Deliver Safe Treatments Globally
Abstract
Clariant at a glance.

Healthcare Products & Process for new developments.

What is Important/ Interesting for Customers ?

PROTECTION of healthcare products:- end to end solutions from API to patient.

Focus on Regulatory changes: USP 661.1, ICH Q3D

Why CLARIANT ?
---
Mr. Aditya Kumar
Managing Director
Marco Polo
Introduction :
Company founded in 1999 and began with offering 3D printing services to the industry using FDM technology. Gradually started services using SLA AND SLS techniques and also offering a range of parts using Vacuum Casting and RIM. Over the last 5 years the company has been actively engaged in manufacturing tools and supporting supplies for Injection Moulding.
Personal :
Polymer Engineering from Pune University and masters in Plastics Engineering from USA. Have been associated with 3D printing technology technologies for last 20 years primarily in the field of automotive applications and development of medical devices.
Topic : Use of additive manufacturing technologies for development of medical devices
Abstract :
1. Brief history of 3D printing
2. Applications for prototyping
3. Various industry verticals using 3D printing
4. Use of 3D printing for medical applications
5. Specific applications in detail including
- Pre surgery models
- Dental applications
- Hearing aids
- Other medical devices
6. Future expectations from the technology
---
Dr. Amol Chaudhari
Director, Research and Development
SynThera Biomedical Pvt. Ltd.
Profile Summary :
Education : pH.D. in Biomedical Science
Professional Career :
1. SynThera Biomedical Pvt. Ltd., Pune, India - Director, Research and Development
2. Savitribai Phule Pune University, Pune, India - Postdoctoral Fellow
3. University of California, Davis, USA - Postdoctoral Fellow
Honors / Awards :
1. Dr. D. S. Kothari Postdoctoral Fellowship (Postdoctoral Position at Savitribai Phule Pune University)
2. Katholieke Universiteit Research Fund (PhD Research at Katholeieke Universiteit Leuven)
Publications :
1. Research Papers, Reports: 20
2. Others: 1 PhD Thesis, 6 Conference Presentations
Title : Glass Foam As Bone Graft Matl.
Abstract :
There is a clinical demand for artificial bone graft materials which has interconnected pores and resorbable structure that stimulate bone regeneration. Bone graft materials of bio-active glasses are very efficient in bone regeneration due to the virtue of bone-stimulating resorption. If porosity can be included in such glasses, then their functionality can be further enhanced due to their possible use as integrated scaffold. One of the commonly used glass manufacturing processes is in-situ polymerization with added glass powder wherein gas-forming (or foaming) agents are used to form bubbles in the solid mass which resembles foam. Glass particles are incorporated in the bulk of such foam. Thus formed foam is then heated to a temperature at which the glass particles fuse together and the foam structure is retained made only of glass. There are many parameters that are required for obtaining suitable foam. In the presentations following points will be discussed:
• Specific applications of glass foam in biomedical field
• Controlling the bioactivity of such glass foams
• Different foaming agents and their effect on the bioactivity of foam
---
Dr. Sachin Jain

Founder Director

SKYi Composites Pvt. Ltd.
Profile Summary :
Dr. Sachin Jain is a founder Director of SKYi Composites Pvt Ltd and SKYI Innovation LLP. Sachin studied Polymer Engineering from University of Pune, India, and Masters from University of Akron, OH, USA. He worked on a sponsored project at NASA on nano-composites and bio-degradable polymers. Subsequently, he worked at Dainippon Ink and chemicals Inc. Japan on nano-structured blends of UV-curable polymers for flexible displays and artificial heart transplants. He then continued his studies at Eindhoven University of Technology, Eindhoven The Netherlands. His PhD thesis challenged long perceived theory of Einstein on filled polymers. His research was cited as "HOT paper" in 2005 in Scientific journal "SOFT MATTER" and awarded with the Golden Thesis Award for his PhD thesis.
He started his professional career at BASF-SE, Ludwigshafen, Germany as a Research Scientist, and later became Director of Research and technology at DSM. In 2015, he founded SKYi as a part of a larger objective of being a global leader providing sustainable solutions in the field of polymer technology. Sachin has accrued more than 27 international patents and has published more than 14 papers; some of his papers have been cited as "HOT" papers by scientific journals. He has also been invited to deliver over 40 high-level academic lectures and presentations around the world. He can be reached at sachin.jain@skyi.com
Title : Bio-absorbable composites for supporting medical implants
Abstract :
The paper presents biodegradable composites which be process as conventional glass fiber reinforced polymers, where polymer matrix is chosen from commercially available environmental friendly bioplastics such as PLA, PBS etc. The reinforcing glass fiber degrades in controlled environment.
Bio-absorbable composites using long fiber reinforcement technology gives high strength and stiffness to material which can replace conventionally used metal supports specially used for orthopedic surgeries. Earlier attempts to use absorbable composites lacked the strength and life for such applications and importantly also the cost. Advances in the medical grade glass fibers combined with SKYi's proprietary long fiber composites manufacturing technology is expected to provide successful alternative. The challenge remains on availability and cost of medical grade glass fibers.
Most importantly, these bio-degradable composites can be processed on conventional injection molding machines.
---
Mr. Lokesh Upadhye

Leister India
Title : Advanced Laser Welding For Medical Devices
ABSTRACT
Plastics are part of our everyday life. It has transcended in to all aspects of our life including necessities in addition to desires. From diapers to clothing to gadgets to cars to medical devices, plastics is everywhere. As the parts are getting complex, the need to join the moulded components is getting more demanding. The weld must be strong, hermetic with a process that is consistent, repetitive, CLEAN and ECONOMICAL TO RUN.
Laser technology is the cleanest method to assemble plastic parts. There is no particle dust formation. Moreover, it leaves minimal or zero stress behind making it the most suited technique for medical devices. Laser being a focused source of energy can melt plastic in quick time. As it is one of the latest technical advancements, it is expensive than the more established techniques. However, concentrated energy of laser means that we can use fraction of energy of other techniques to melt plastics. Again, laser can be used in different source formats to get the most out of available energy.
Leister, a renowned name worldwide in plastic welding and process heat, is a Swiss origin company that has added Laser and Infra-red technologies to meet customer demands. Leister provides 6 configurations of laser source to suit the part to be joined making it possible to provide an economical, energy efficient, assured technique to weld plastic medical devices. With a pan India footprint of 10 sales, service offices, Leister is committed to be with customers from pre-sales consultancy to post-sales support.
---
Mr.

Rajesh Gera
Asst. Vice President - Business Development
Reliance Industries Ltd., PET Division, Mumbai
Profile Summary :
Mr RK Gera is working as AVP-Business Development in RIL-PET Division. He joined Reliance in Dec' 97 and has handled Technical Services, Sales & Marketing, Product Development and is now responsible for the "Business Development, Recycling and Sustainability initiatives".

His focus is on 'Application Development, Market Promotion & Sustainability' for PET. He is primarily involved in development of Indian markets for 'Pharma, Edible Oil, Milk & Dairy Products, Paint..& establishing new PET resins He supported Major Pharma companies to launch their products for first time in PET in India. He has worked closely with Beverage majors like Amul & RoohAfza in successfully launching their products in RELPET bottles in India.

He is a B-Tech in Plastics Technology from HBTI, 1985 batch. He earlier worked in LG Polymers (Product Development and Technical Services of Polystyrene and EPS) & in FGP (Technical Services & Market Development of FRP and Glass Fibre Tissue products). He was involved in developing and promoting FRP Underground Petroleum Storage Tanks for first time in India with the Oil majors among other FRP/FRTP applications.

He had been the key initiator of 2 International conferences on 'Packaging of Edible Oils in PET' in India in '06 and '07 in Mumbai and Agra resp. These seminars were well attended by major EO manufacturers from all-across the country & it changed the way; Edible oils are today packaged in PET in India

In today's seminar, he will share views on 'PET Plastics Applications in Pharma Industry'. He will cover 'PET bottles for Pharma products, Blood Collection Tubes (BCT) and thermoformed APET sheet products & blisters. As he has been actively working on 'Recycling & Sustainability' initiatives for PET, thus in conclusion he will update us very briefly on the Reliance's participation in Sustainability Initiatives in India. Over to you Mr Gera..
Title : PET Plastics Applications in Pharma Industry
ABSTRACT
PET Bottles are being have been used in India for more than 2 decades now in India. These are used for many of OTC products including antacids, cough syrups, vitamins, ..etc. PET has replaced other conventional materials used in Pharma sector and it has proved to be a more greener packaging option for pharma products. The PET packaging for Pharma products include 'Bottles, Blood Collection Tubes (BCT) and thermoformed APET sheet products & blisters'. PET bottles are one of the most recycled products in India as recycled bottles. These are primarily used for making fibres/fabrics and hence contribute towards a more sustainable and greener world.