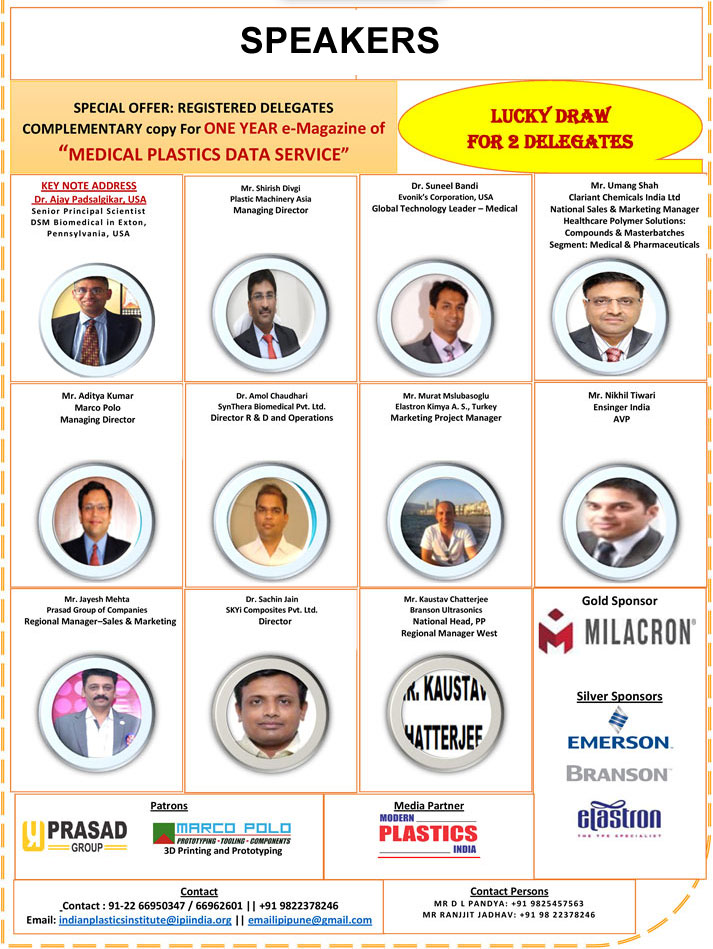 ---
Invited Speakers Profile & Abstracts :
Dr. Ajay Passalgikar
Senior Principal Scientist
DSM Biomedical in Exton
Pennsylvania, USA
Abstract
Health care is expanding worldwide with the industry showing double digit growths in emerging economies. The use of polymers within this sector is increasing with the growth of the industry as well as with new approaches in medical treatment. This talk will focus on the suitability of plastics for medical applications, the manufacturing processes for medical device production, emerging applications and opportunities for the Indian industry.
---
Dr. Suneel Bandi, PhD
Technology Leader Medical
High Performance Polymers, Americas
Phone +1 765 477-5194
Cell- +1 765 491-0950
Title: High Performance Polymers for Medical Device Applications
Profile Summary
Sunil Bandi Holds a Doctoral Degree in Macromolecular Science and Engineering from Case Western Reserve University, with a broad polymer industrial experience.
Presently Global Technology Leader - Medical (implant and non-implant) for EVONIK's High performance polymers group.
Prior to joining Evonik, Lead product development at Solvay and has Management consulting experience in the domain of technology based market and strategy assessment at Newrycorp.
Lead startup Aeroclay Inc. a novel platform technology for lightweight applications.
Dr. Suneel Bandi is well connected to global network of medical customers, and actively support technical programming.
Abstract:
EVONIK is a technology leader for high-performance polyamides, EVONIK's current portfolio of specialty polyamides include PA12, PEBA (flexible polyamide), bio-based polyamides, and transparent polyamides for the medical devices. From catheters and balloons to diagnostic equipment and surgical instrumentation, VESTAMID® Care and TROGAMID® Care are well established. EVONIK offers flexibility in the design and manufacturing through our new Bonding VESTAMID® Care and TROGAMID® Care grade polymers. EVONIK's VESTAKEEP® Care PEEK materials are used in temporary contact and instrument applications, while VESTAKEEP® PEEK i-Grades are used for permanent implant applications. From spine and sports medicine, to drug delivery devices and heart valve applications, new compounds of VESTAKEEP® PEEK are designed to meet the specific application needs and performance demands of medical-device industry.
---
Mr. Aditya Kumar
Managing Director
Marco Polo
Topic : Use of additive manufacturing technologies for development of medical devices
---
Mr. Kaustav Chatterjee
National Head PP, Regional Manager West,
Branson Ultrasonics
Over 20+ years' experience in Ultrasonic Plastic Joining industry
Title : Plastic Joining Experts
About the company
Branson Ultrasonics:
Branson, a brand that belongs to Emerson (NYSE: EMR), headquartered in St. Louis, Missouri (USA), is a global technology and engineering company delivering proven performance, unequalled expertise and the broadest technology portfolio for material joining and precision cleaning applications.
When the application demands a perfect joining of parts, a reliable weld or an immaculate part, customers around the globe look to Branson material joining and cleaning solutions from Emerson.
As part of Emerson Automation Solutions, our 50 years of experience and process-neutral approach allows us to consider your unique industry challenge and select from a range of joining techniques: ultrasonic, laser, thermal, vibration, clean vibration, spin, infrared and hot plate welding.
Representation in 70 countries in Americas, Europe & Asia with 3 manufacturing locations, Branson Ultrasonics is positioned to support customers wherever they operate with industry leading expertise.
Emerson is where technology and engineering come together to create solutions for the benefit of our customers, driven without compromise for a world in action.
BRANSON VISION:
The global leader in customer-focused solutions for plastics joining, ultrasonic metal joining and precision processing.
BRANSON MOTTO:
• We create value in our customers' manufacturing processes
• We are positioned to support our customers wherever they operate, with our industry leading expertise.
We provide a high return on investment to our customers, employees and shareholders.
---
Amol Chaudhari
Director, Research and Development
SynThera Biomedical Pvt. Ltd.
Title : Glass Foam as Bone Graft Material
Education : pH.D. in Biomedical Science
Professional Career :
1. SynThera Biomedical Pvt. Ltd., Pune, India - Director, Research and Development
2. Savitribai Phule Pune University, Pune, India - Postdoctoral Fellow
3. University of California, Davis, USA - Postdoctoral Fellow
Honors / Awards :
1. Dr. D. S. Kothari Postdoctoral Fellowship (Postdoctoral Position at Savitribai Phule Pune University)
2. Katholieke Universiteit Research Fund (PhD Research at Katholeieke Universiteit Leuven)
Publications :
1. Research Papers, Reports: 20
2. Others: 1 PhD Thesis, 6 Conference Presentations
Abstract :
There is a clinical demand for artificial bone graft materials which has interconnected pores and resorbable structure that stimulate bone regeneration. Bone graft materials of bio-active glasses are very efficient in bone regeneration due to the virtue of bone-stimulating resorption. If porosity can be included in such glasses, then their functionality can be further enhanced due to their possible use as integrated scaffold. One of the commonly used glass manufacturing processes is in-situ polymerization with added glass powder wherein gas-forming (or foaming) agents are used to form bubbles in the solid mass which resembles foam. Glass particles are incorporated in the bulk of such foam. Thus formed foam is then heated to a temperature at which the glass particles fuse together and the foam structure is retained made only of glass. There are many parameters that are required for obtaining suitable foam. In the presentations following points will be discussed:
• Specific applications of glass foam in biomedical field
• Controlling the bioactivity of such glass foams
• Different foaming agents and their effect on the bioactivity of foam
---
ABSTRACT
Plastics are part of our everyday life. It has transcended in to all aspects of our life including necessities in addition to desires. From diapers to clothing to gadgets to cars to medical devices, plastics is everywhere. As the parts are getting complex, the need to join the moulded components is getting more demanding. The weld must be strong, hermetic with a process that is consistent, repetitive, CLEAN and ECONOMICAL TO RUN.
Laser technology is the cleanest method to assemble plastic parts. There is no particle dust formation. Moreover, it leaves minimal or zero stress behind making it the most suited technique for medical devices. Laser being a focused source of energy can melt plastic in quick time. As it is one of the latest technical advancements, it is expensive than the more established techniques. However, concentrated energy of laser means that we can use fraction of energy of other techniques to melt plastics. Again, laser can be used in different source formats to get the most out of available energy.
Leister, a renowned name worldwide in plastic welding and process heat, is a Swiss origin company that has added Laser and Infra-red technologies to meet customer demands. Leister provides 6 configurations of laser source to suit the part to be joined making it possible to provide an economical, energy efficient, assured technique to weld plastic medical devices. With a pan India footprint of 10 sales, service offices, Leister is committed to be with customers from pre-sales consultancy to post-sales support.
---